Experience music from around the world with Millie and the Mentshn!
---
Millie & The Mentshn (MTM), based in Bellingham, WA, is a group of classically trained musicians who play world music that ranges from Prokofiev to Gershwin to Latin to raucous dance-in-the-aisle Klezmer. Audiences of all cultural backgrounds enjoy the unusual combination of instruments, the intricate harmonies, and the variety of musical styles and traditions including Russian, Polish, Ukrainian, Israeli, Arabic, Yiddish, Ladino, Gypsy, Swing, Jazz, Tango, Folk, Latin, and Country Western.
"This is not your mother's Klezmer!" —TC JEWFOLK
"The amazing Bellingham Klezmer band [Millie & the Mentshn] could stir passions in a stone statue." — THE WHATCOM INDEPENDENT
'Mentshn' (sounds like mention) is plural for 'mentsh' (rhymes with bench), which in Yiddish means a person of integrity. Since their formation in 2002, MTM has produced three CDs, and developed a loyal following in Washington. They have also been well received on several tours of Alaska and Minnesota. They were honored to represent the United States in the First International KlezFiesta in Buenos Aires, Argentina, where they joined Klezmer bands from around the world on a mission of peace, understanding, and acceptance of diversity through music.
"Eclectic and Electric!"  — ANACORTES ARTS FESTIVAL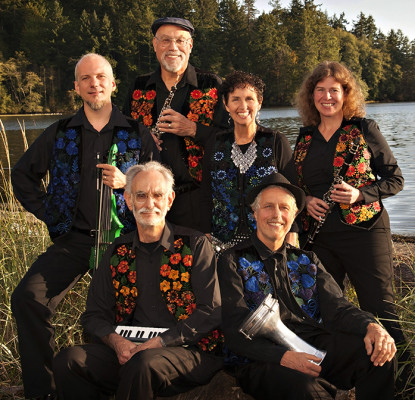 MTM performs at a variety of events including dances, weddings, outdoor concerts, special celebrations, and multimedia/educational concerts. Their versatility enables MTM to slide gracefully between energetic driving dances and a beautiful classical sound that has been described as "chamber Klezmer" music. When the venue is appropriate or upon request, MTM teaches traditional group folk dances that are accessible and fun for all ages and abilities.
MTM brings energy, emotion, and humor to their performances. You will leave feeling refreshed, reinvigorated, and full of life. L'Chayim!
"Millie and the Mentshn combined Millie's exuberant voice with a melodious combo of viola, piano, oboe, and drums. The ensemble left the audience dancing in the aisles – literally."
— SAMISH ISLAND CONCERT ASSOCIATION
---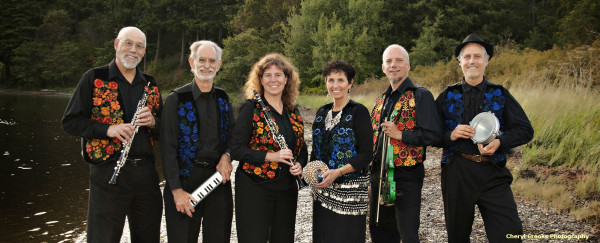 MILLIE & THE MENTSHN TOURING ENSEMBLE
Touring ensemble featuring (l to r):
KEN BRONSTEIN (oboe); LOU LIPPMAN (piano); SUSAN BLUM (clarinet);
MILLIE JOHNSON (vocals, arrangements); PHIL HEAVEN (violin, viola);
WARREN PALKEN (drums, percussion).